Bouncy castles for rent in Palma de Mallorca
Our company offers insured bouncy castles for rent in Mallorca, we have different models and with 3 different measures, small middle and biggest one. The bouncy castle is a good surprise for your kids birthday, events or some special occasions all kind of parties. The bouncy castles in Palma de Mallorca are mostly 2 types with or without slide, we have an entrance with net or without.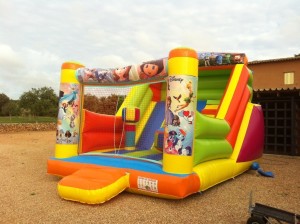 If you are looking to rent for your birthday in Mallorca we have the best bouncy castles and we can bring it directly in your home free delivery included in the price. We clean all our products after every use, so the quality is very nice, we rent a cotton candy machines, hot dog machines, bubble machines, pancake machine and popcorn machine. Feel free to contact us and asking us anything you want to be informed around your celebration, we can organize everything for you.
Our bouncy castles in Malorca have a very high demand so better you book some weeks before the party begins, if you are late don't hesitate to call us immediately. You can make a deposit directly in our office or just call us and we can help you. Normally we deliver your bouncy castle in all Mallorca 1 or 2 hours before the party begins.
We are looking forward for the next client if you like some of our bouncy castles could be yours just call us today.